| | | |
| --- | --- | --- |
| | The Sir Edmund Hillary Mountain Legacy Medal | |
All Medalists

Schmitz & Hawley (2003)

Byers (2006)

Freake (2008)

MacLennan (2010)

Ang Rita (2011)

Bisht (2013)

Ives (2015)

Portocarrero (2016)

Reinhard (2017)
Johan Reinhard receives Hillary Medal in Pokhara
The presentation ceremony was a highlight of the 4th Mountain Festival, at the International Mountain Museum in Pokhara on December 11, 2017.
Introductory remarks by Dr. Seth Sicroff
Namaskar!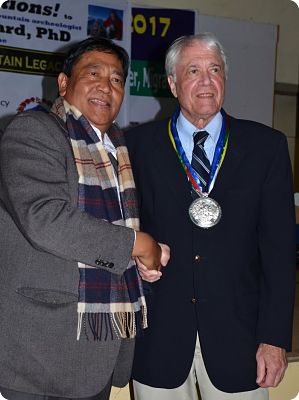 NMA President Santa Bir Lama presents the Hillary Medal to Dr. Johan Reinhard
I'd like to thank President Santa Bir Lama, ex-President Ang Tsering Sherpa, and the other officers and members of the NMA for authorizing this auspicious festival, and Mr. Kushal Gurung for his heroic efforts in organizing it, and particularly for inviting Mountain Legacy here to present our 9th Sir Edmund Hillary Mountain Legacy Medal. Thanks also to Dr. Dhananjay Regmi, director of Himalayan Research Expeditions, and Dr. Meeta Pradhan, director of The Mountain Institute's Himalayan Program, who have contributed an honorarium in recognition of Dr. Reinhard's achievements and ongoing work. We are deeply indebted to our contributors, including Environmenal News Network, Jack D. Ives, and Barry Hughes, who made this project feasible. I am very grateful to Dr. Reinhard and his illustrious guest Maria Wilhelm [chief operating officer of the Avatar Alliance Foundation], for making the long trek to Pokhara to participate in this ceremony, and of course great thanks to all of you for your stewardship of the mountain ecosystems and mountain communities of the world.
I will be talking a bit about the Sir Edmund Hillary Mountain Legacy Medal and Mountain Legacy, the Nepalese NGO that administers it, about the Hillary Model of development assistance, and about the remarkable work and achievements of Dr. Reinhard. But first I want to make a special plea to you all on a larger topic.
Get ready for the Hillary Centennial!
A legacy is a fragile thing. Sometimes it is so great that we cannot imagine its melting away and leaving us all impoverished. I'm speaking abou the legacy of Sir Edmund Hillary, but of course it is true of every other legacy, including those last best places we are trying to sustain.
At one time Hillary was the most famous person in the world. Every child knew what he had done on May 29, 1953. These days, if you asked an American under the age of forty who Ed Hillary is, he'd likely guess the brother of Hillary Clinton. Of course, Americans are famous for their ignorance of world affairs – a survey a few years back found that the most common answer to the question "Where did the Vietnam War take place?" was "Korea."
Similarly, the fame and prestige of a nation can fade. During the 60s and 70s Nepal became known as the recreational and spiritual jewel of the world, a destination that was on everyone's bucket list of places to visit before they died. In large part, that allure was due to the achievements and the promotional effort of Sir Edmund Hillary. Tens of thousands of visitors made the long overland trek from Europe, eager for enlightenment. While the Nepalese may not have been especially fond of the exotic hordes, those so-called hippies matured into the generation that invented the concepts of pollution, ecology, recycling, and planetary sustainability. They were inspired by Nepal, but Ed Hillary was the catalyst that brought them here and thereby contributed to the generation of rock 'n' roll, civil rights, and all of the values we take for granted now.
Shangri-la has definitely faded, but we have an opportunity looming to recapture the Hillary legacy and the glamour of Nepal.
Ed Hillary was born on July 20, 1919. What will we do to celebrate the centennial year of this great man? Will we ask for a UN declaration of the International Year of Hillary? Issue a set of stamps and a new 1000 NR bank note? Undertake an ambitious program clean up Mt. Everest, fix Nepal's infrastructure, and root out corruption?
This is a final opportunity to capitalize on an asset of unparalleled power to stir the imagination. Let's seize it.
Returning to today's event…
The Medal and the Model
Mountain Legacy is a Nepalese NGO that was initiated as a result of the 2003 Namche Conference on People, Parks and Mountain Ecotourism. The primary function of Mountain Legacy was to be the administration of the Sir Edmund Hillary Mountain Legacy Medal. I have been authorized by ML president Kumar Mainali and the Board of Directors to manage the Hillary Medal project and to represent them at this ceremony.
The SEHML Medal, as authorized by Sir Edmund himself, both recognizes Hillary's life-long commitment to the welfare of mountain people and their environment and also encourages the continuing emulation of his example. It is awarded for remarkable service in the conservation of culture and nature in mountainous regions.
What exactly is the example to be emulated? The Hillary Model of Development Assistance was a radical departure from contemporary modes of foreign meddling, which were top-down efforts burdened with ulterior motives, whether political, mercantile, or religious. Hillary generally undertook projects at the behest of his Sherpa friends: they asked his help in building schools, hospitals, water delivery systems, and bridges, as well as gompa restorations, and so on. Other projects came about secondarily, including an inoculation program to halt a smallpox epidemic, and airstrips to deliver material for the schools and hospitals. Some efforts, such as scholarships, reforestation programs, and lobbying for park status for the Khumbu region, grew out of his own perception of urgent needs. The unifying element was not the type of assistance, which necessarily changed as conditions changed overall, but the manner and motivation. Hillary had no desire other than to help his friends. Sometimes he referred to it as gratitude, but more often he referred to comradeship. The beneficiaries were equals, and participated as such in the projects.
A second aspect of the Hillary Model is the priority of adventure in human experience. Hillary was not just a practitioner of adventure, he also advocated for it as a necessary exercise of the human spirit. By adventure he understood an effort to reach a set goal, which might involve a great deal of drudgery or even boring downtime, but would employ all one's skills and character to the utmost, and still risk failure. What he realized as he undertook his first development project was that building a school or reforesting a hillside was exactly the same kind of effort. Recreational adventure became a stepping stone to philanthropic adventure. Directly or indirectly, Hillary's example has led hundreds of trekkers, mountaineers, and other adventurers to undertake a huge diversity of assistance adventures that have greatly benefitted Nepal's people and helped sustain its ecosystems.
A few words about Johan Reinhard
The recipient of today's Medal has had a career that in many ways mirrors Ed Hillary's. Johan grew up in New Lennox, Illinois, in America's great boring heartland, far from the peaks that would later call to him. Like Hillary, he was a voracious reader of adventure books. He developed a fascination with the Amazon, but when he made his first solo trip to Brazil, he realized (like Hillary) that he was just as fascinated with the people as with the place. And then he realized that cultural anthropology was in fact the very profession designed for his obsessions. He set about acquiring the necessary skills: linguistics, photography, cinematography, scuba diving, skydiving, mountain climbing, spelunking, and karate. Amazingly, he has used all these skills in his career—except, I hope, karate.
Following his undergraduate studies at the U of Arizona, and a failed expedition to Brazil, Johan's plans became more focused. He did his doctoral studies in anthropology at the University of Vienna, learning German (which he felt essential to the pursuit of his interests in psychology and philosophy), and became a proficient skier and mountain climber. For his first professional adventure, Dr. Reinhard chose to investigate the Kusunda, a hunter-gather tribe in Nepal that turned out to be too diminished for a proper ethnographic study. Instead, he was able to locate groups of the Raji and undertook seminal ethnoarcheological studies, comparing their current customs to what was know of prehistoric hunter-gatherers. It is to renew these studies that Dr. Reinhard has just returned to Nepal.
I will stop here and let Dr. Reinhard fill you in on his other adventures. But I should note that even before accepting the SEHMLM, Johan is one of the most influential and most honored adventurer-scholars in history. He has published dozens of articles, and best-selling books, including one for children on the Incan Ice Maiden. Three museums, in three different countries, have been established to exhibit his findings. He was selected National Geographic Explorer-in-Residence, and won the Rolex Award for Enterprise. Time Magazine twice included his finds in lists of the ten most important scientific discoveries of the year. National Geographic ran an article on him titled "He May Actually Be the Most Interesting Man in the World."
We agree, and we are honored that Dr. Johan Reinard is here to accept the SEHMLM.

Johan Reinhard's Acceptance Speech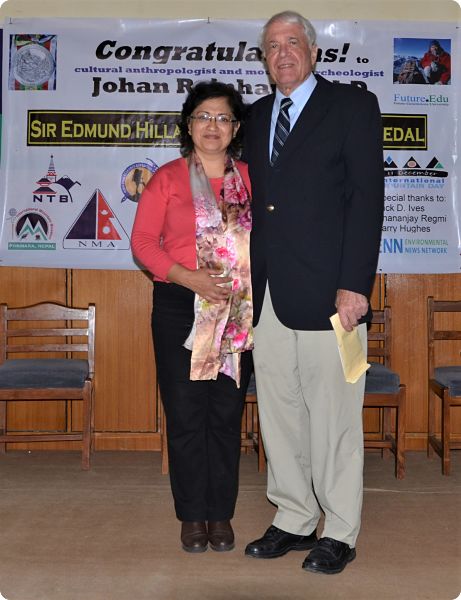 Dr. Reinhard with Dr. Meeta Pradhan, who presented an honorarium on behalf of The Mountain Institute and Himalayan Research Expeditions
Thank you for the introduction, Seth, and my thanks to President Kumar Mainali and to the other members of the Selection Committee at Mountain Legacy who made the medal possible. As for the work that I have carried out over the past fifty years, it couldn't have been done with the help of many people—too many to begin to list here. But being in Nepal I do want to mention a few, some of whom many of you will have known, including Dor Bahadur Bista, Harka Gurung, Prayag Raj Sharma, Charles McDougal, and Gabriel Campbell.
I should add that some of the people present here today have devoted years of their lives to the kinds of causes that this medal so well symbolizes. Everyone involved in this work is deserving of recognition and owed our thanks for their lasting commitments and achievements. Unfortunately, remembering Nepali after so many years is not one of my achievements, and I apologize for presenting my talk today in English. Aja ma angrejima mero kurakani jari rakkhna maphi chahanchu.
I am sure that some of you will know little about the work I have been involved in among mountain communities. Over the years this has been complicated by it having taken place mainly on two continents. However, these are the two that contain the world's highest and longest mountain ranges—the Himalayas and the Andes.
While beginning university studies in 1962 I decided to combine different research approaches: cultural anthropology, archaeology, linguistics, and history were at the top of the list. I also included outdoor activities along with them, such as mountain climbing, scuba diving, and even sky diving. This was no coincidence, because I viewed them as tools necessary to become a scientific explorer--one capable of working in different environments and with different cultures throughout the world. I hadn't heard of this approach being taken before and I thought of myself becoming a "para-anthropologist." Little did I know how difficult a path it would be to pursue--but then again I was 18 years old and, well, that says it all!
When I heard about the Hillary Medal, I wondered about the ways that my work reflected Sir Edmund's goals and interests. It didn't take long for me to realize that any comparisons with Sir Edmund would not work out well for me!
But I also discovered there were a couple of strange coincidences. For example, I first met Ed in 1968 at the end of his jet boat trip up the Sun Kosi River. A few years later a friend and I nearly drowned in the same river, and soon after I was a member of the team that made the second descent of it—of course that meant we went down the river, not up it! Much easier that way, I am sure.
Almost a half century has passed since I first set foot in Nepal, and it was to be an experience that has never ceased to influence my life. When I first arrived in 1968, I came to see if the last remnants of the Kusunda, a hunting gathering tribe, still existed. A list of words had been gathered in the 1830s that upon examination in the 1950s appeared to represent a unique language family. They could be the only remaining speakers of the people who inhabited the Himalayas before the Tibeto Burman and Indo-European speakers spread throughout the mountains, resulting in the languages that now exist and that all of us here are speaking today.
Not only that, but they would also make up one of the last hunting and gathering tribes in the world. Let's not forget that over 99% of mankind's time on earth he was a hunter-gatherer and the shift to settled agriculture resulted in radical changes not only in man's economy, but in all other aspects of life, from social structure to religion, as well. In fact our bodies are still struggling to adjust to this change—think of diabetes, lactose intolerance, obesity (due to fats & sugars) and even adaptations in our DNA to name a few examples.
Added to this was the opportunity to work amidst both the world's highest mountains in the north and in the jungle to the south. I would also be able to learn more about two of the world's great religions, Hinduism and Buddhism. I thought to myself, "Where else in the world can a person find such a fascinating mixture of environments and cultures!?"
But there was another reason I was interested in these most marginalized of ethnic groups. Being virtually unknown to most Nepalis—and little known to even those who did have contact with them—they were looked down upon as being uncivilized, and I wanted to show that they, too, had their own cultures deserving of respect.
Indeed, when I first began searching for the Kusunda, they were referred to by villagers as "ban manche"—the same name in Nepali that is applied to the yeti. Villagers so often confused the two that I began to realize that whatever the original concept the yeti referred to, hunter-gatherers that originally inhabited the hills certainly had helped perpetuate a belief in their existence. And as many of you know, Ed played an important role in ensuring that a scientific approach was applied to determining if the yeti was real. By coincidence, a mountain climbing ban was in place in 1968, thus limiting employment for Sherpas. Thanks to this I was able to employ Urkien Tsering to be my assistant. He had been one of Ed's key Sirdar's, including when Ed searched for the yeti. Although I was fortunate to locate members of the Kusunda, only a few survived and I had to go elsewhere for the kind of study I had planned. I heard of another hunting tribe, the Raute and "found" them in West Nepal. I say "found" knowing that they were never "lost" except to Westerners, and it could more accurately be said they found me. The maps of the region were not the best in 1968, and I was constantly getting lost. Someday there may be a Raute writing about how they found an American anthropologist!
Well, there was a good reason they were still able to remain hunters and gatherers in an agrarian world—they had as little contact with villagers as they could while trading wooden bowls for grain. They would not let me, nor anyone else, live and work with them.
This was getting a bit depressing: By this time, I had been over a year in Nepal and still not even begun my thesis research. And it didn't help that I had spent the grant and didn't have enough money to return home.
Fortunately. I had collected enough linguistic material and other evidence to establish that the Raute were related to a number of Raji groups that were in various stages in taking up agriculture. I ended up spending over a year with them along the Babai River in one of the most pristine forest regions of Nepal. This later proved unfortunate for the Raji, who in the 1980s were moved out by the government to make possible the establishment of Bardia National Park. Now I need a special permit to visit a place that is actually wilder than it was when I entered it half a century ago! While I was with the Raji, I had worked with shamans and come to realize the importance of landscape ecology and sacred beliefs in understanding, not just ethnic groups living in forests, but all traditional groups no matter where they lived, including in the mountains.
However, it was not until I participated on the second American expedition to Mt Everest in 1976 that I began to focus on sacred mountains and to sacred landscape in general. The offerings being made to the goddess Chomolungma (Mt Everest) during our climb captured my attention in a way that was to only grow a year later during a climbing expedition I participated on in the region bordering Everest and Makalu. By coincidence, this was the same region Ed investigated a year after he had been to Mt. Everest.
During our 1977 BBC expedition, I learned of the existence of the so-called hidden lands of Tibetan Buddhists. As we got closer to the mountains, we found to our surprise that such lands were believed to have been prophesized over 1,200 years ago. Indeed, they are still being manifested today--as I found out recently in Bhutan. It is a complex tradition and here I will only say that it speaks of regions that provide sacred refuges for peoples in times of need—sort of mini-Shangrila-Las. And it was the sacred landscapes that especially drew my attention—mountain protectors and landscape features such as lakes and caves that play important roles in local beliefs. The fact that, being holy, they are supposed to be kept free from hunting and deforestation has meant that they are culturally significant ways that can be used to promote the preservation of the environment. It is one aspect of what has been called a Buddhist ecology.
I worked with lamas translating texts believed to have been revealed hundreds of years ago and eventually visited seven of these lands—although I have only written about the first one, Khembalung, the hidden land in what is now part of Makalu-Barun National Park. I spent a five year period without leaving Nepal, and at the beginning of 1980 I decided to take a break by joining two expeditions in the Andes—one to traverse a mountain range to the Amazon in Ecuador and another to cross Tierra del Fuego in southern Chile. Two more different climates and terrains would be hard to imagine—and both offered possibilities of encountering little known ethnic groups.
However, it is what occurred following these expeditions that led to my not returning to Nepal for several years. While traveling through Chile, I learned that Inca ruins had been located up to 22,000 feet (6700 m). The Incas built these sites over 500 years ago and such heights were not even reached until 400 years later by Westerners. Yet I hadn't seen any references to this either in archaeological or mountain climbing accounts.
In the course of the years to follow, I learned of the critical importance of sacred landscape beliefs and customs throughout the Andes. Indeed, I came to realize they held the key to understanding not just the people living in the mountains today, but also some of archaeology's greatest enigmas, including the Inca site of Machu Picchu and even the giant drawings in the desert of southern Peru—the Nazca Lines. The findings kept me in the Andes for decades and led in the 1990's to our discovery of frozen Inca mummies on mountain summits up to 22,000 feet—the world's highest archaeological site.
In the case of the Incas, they had figured out how to reach the summits of high peaks by establishing camps, and even building trails, up mountain slopes, conquering not just altitude and physical challenges, but, perhaps even more importantly, overcoming the fear that people had of entering the realm of the gods. Their repeated ascents of over 100 peaks above 17,000 feet and the building of structures on their summits has to rank as one of the great achievements of antiquity. We know that Himalayan peoples had reached altitudes of over 18,000 feet in the past, but the greater technical difficulties encountered among higher mountains in the Himalayas kept them from reaching such heights. Many of these sites have been looted, as they are impossible to guard, and cultural patrimony has been lost forever. Fortunately, a few still remain relatively untouched and we have been able to recover some Inca offerings in their original contexts and perfectly preserved. These are literal time capsules that open up new eyes on the past. They provide unparalleled insights into the lives of people who lived centuries ago.
The finds have also attracted more attention to the importance of indigenous beliefs and practices of indigenous peoples today. Mummies in particular are a major attraction to people of all ages and to all cultures across the globe. They are thus wonderful ways to increase the understanding of other cultures, and ranging from geology to biology. The museums that have been established are among the most visited in Peru and Argentina and led to increased economic and social benefits. Archaeology, the study of the past, thus has implications for the present, and millions of people have continued to learn more about past and present cultures as a result. In a way, the mummies and their cultures become "alive."
Unfortunately, this is taking place during a time when entire languages and cultures are disappearing from our planet at an ever increasing rate. We are losing insights into the diversity of our own species, and, once these different ways of viewing the world are gone, they can never be recovered.
Although there are some ways my life has had parallels with Ed's, there are many ways it has differed considerably. But I know that the purpose of the Mountain Legacy Medal isn't to find people who have duplicated Ed's life, but rather those who have carried forward his approach, combining adventure with scientific results that could make contributions to local communities.
Someone suggested that I label this talk "From Machu Puchare to Machu Picchu." OK, it is flippant, but there is some truth to it as well: One of the best known mountains in the Himalayas has a name similar to one of the best known sites in South America—which itself is associated with some of the most sacred mountains in the Andes. In a way they are both illustrative of the importance of peoples' beliefs about mountain landscapes and the need for a better understanding of their roles in mountain cultures throughout the world.
I did not meet Ed Hillary after I began my work in the Andes in 1980, but I have no doubt at all that he would have loved this.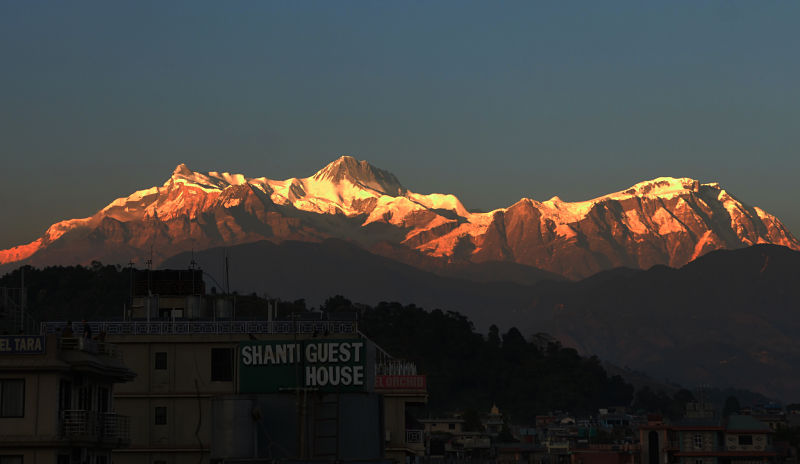 Annapurna looms to the north of Pokhara.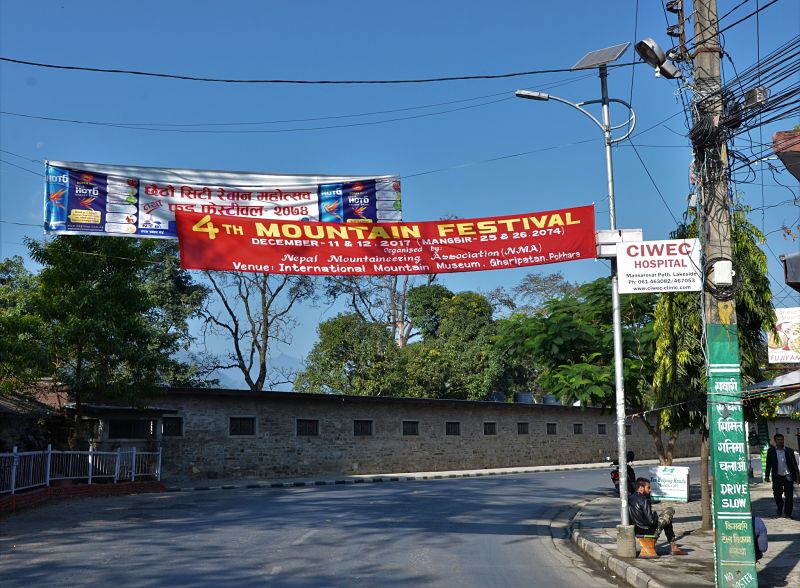 Banner for the Mountain Festival in the Lakeside area of Pokhara.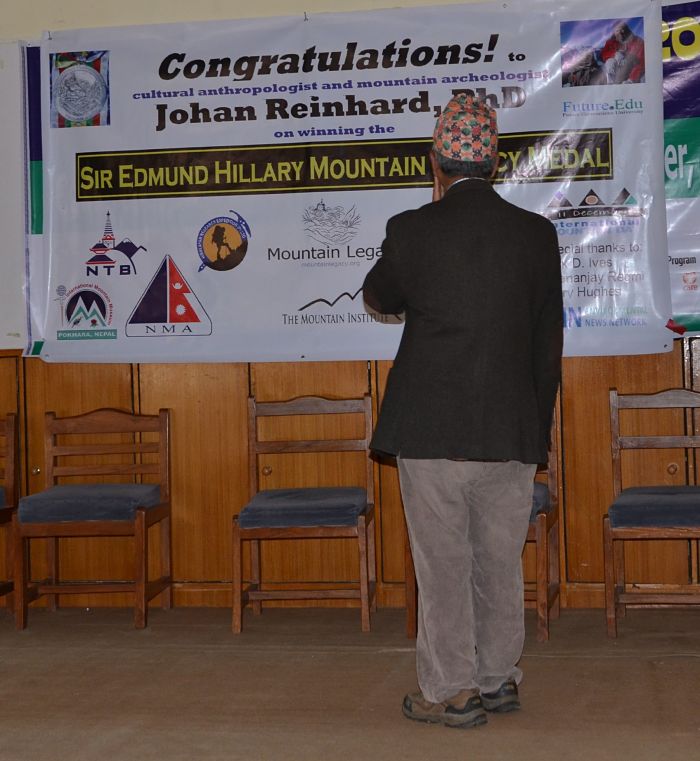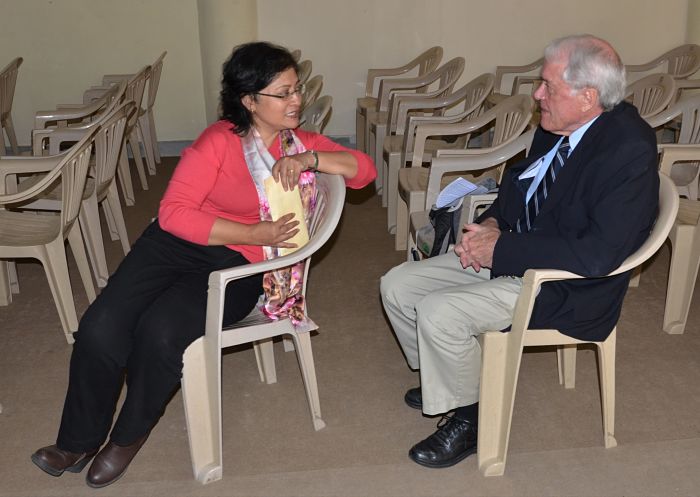 All Medalists

Schmitz & Hawley (2003)

Byers (2006)

Freake (2008)

MacLennan (2010)

Ang Rita (2011)

Bisht (2013)

Ives (2015)

Portocarrero (2016)

Reinhard (2017)

Home

Update

Nominations

Medalists

Mountain Legacy

Collaborate

Sitemap

Contact

Please Support the Sir Edmund Hillary Mountain Legacy Medal