| | | |
| --- | --- | --- |
| | The Sir Edmund Hillary Mountain Legacy Medal | |
All Medalists

2003 Medalists

2006 Medalist

2008 Medalist

2010 Medalist

2011 Medalist
2013 Medalist

2013 Presentation

2015 Medalist (Lifetime Achievement)

Presentation of 2015 Lifetime Achievement edition of the Hillary Medal
On October 29, 2015, Dr. Jack D. Ives received the first Lifetime Achievement edition of the Sir Edmund Hillary Mountain Legacy Medal at a luncheon hosted by New Zealand High Commissioner H.E. Simon Tucker and Nepal Ambassador to Canada, H.E. Mr. Kali Prasad Pokhrel.
His Excellency Kali Prasad Pokhrel, ambassador of Nepal to Canada, and His Excellency Simon Tucker, New Zealand High Commissioner to Canada, congratulate Dr. Jack D. Ives on receiving the Sir Edmund Hillary Mountain Legacy Medal. Second and third photos below are courtesy of Embassy Magazine.
Click on the photos below to display larger images.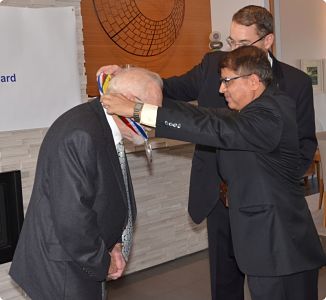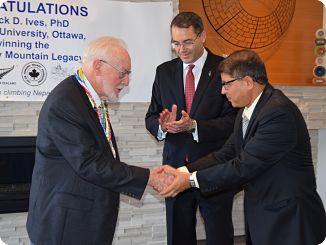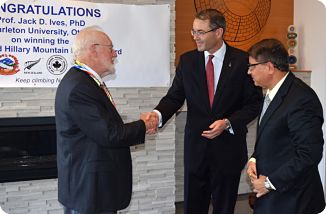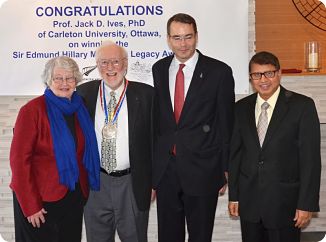 Statement by Dr. Seth Sicroff on behalf of Mountain Legacy
Due to geographical and timing constraints, I have the honor of standing in for Dr. Kumar Prasad Mainali, president of Mountain Legacy; for Dr. Beau Beza, Chair of the Hillary Medal Selection Committee; and for Peter Hillary, custodian of the Hillary legacy and mentor of the Hillary Medal project.
The Sir Edmund Hillary Mountain Legacy Medal was established in 2003 both to honor the humanitarian work of Edmund Hillary and also to encourage its emulation.
The Hillary Model of humanitarian development assistance is multifaceted, open to a range of emulatory efforts. Zeke O'Connor, close collaborator of Sir Edmund and founder of the Sir Edmund Hillary Foundation of Canada, stressed three elements: asking locally (as opposed to top-down interference), getting sweat equity (i.e. securing local buy-in, at least labor, for all infrastructure projects) and long-term involvement.
For me, the key element of the Hillary Model is adventure. Sir Edmund went to Nepal to climb, and took on his assistance projects as logistical adventures in their own right. For both Sir Edmund and his son Peter, the physical and mental challenge of adventure is a fundamental need hardwired into the human spirit, increasingly rare in this tamed and shrunken world, but increasingly important. Humanitarian service and adventure, particularly in the world's most awe-inspiring landscape, can give meaning to an otherwise pedestrian existence.
While Sir Edmund's development focus was largely at the grass-roots level, the problems faced by mountain communities and ecosystems have shifted in the past decades. A decade like the Christchurch quake or the more recent earthquakes in Nepal can cause long-term damage to regional, community, and family economies. We clearly need better policies, more effective response, and more accurate science to predict needs, implement mitigation efforts, and carry out rescue and recovery.
This is where Jack has served. His career is a shining example of long-term adventure and long-term service in the mountains of the world. More than anyone else, he has put mountains and mountain peoples front and center in the environmental movement and in efforts to ensure gender equity and respect for cultural traditions in mountainous regions. He has brought science to stewardship and insisted they serve local communities first.
It would be difficult to overstate Jack Ives' impact. His career as scientist, educator and activist are to the highest extent worthy of the Sir Edmund Hillary Mountain Legacy Medal.

Acceptance Remarks by Dr. Jack D. Ives
I am very proud to be awarded such a great honour. And as it bears the name of one of my greatest youthful heroes whose later life's work has inspired my own, it has immense personal impact.
But all such recognition is based on the assistance and support of many others. As I have just passed my 84th birthday, so there are very many who fall into that category and who own a share in this medal. However, there is one man, Ragnar Stefansson, a now deceased Icelandic sheep farmer, who became a virtual second father, and through him I became bound to Iceland, so that I am delighted that His Excellency Sturla Sigurjónsson has honoured me by his presence today.
In conclusion, several special acknowledgements must be recorded:
Pauline Ives, life partner, colleague in sometimes arduous Arctic territory, mother of our four children, and sometime critic;
Peter Hillary; Dr. Kumar P. Mainali, President of Mountain Legacy; Dr. Beau Beza, Chair of the Hillary Medal Selection Committee; Dr. Seth Sicroff, Projects Coordinator for Mountain Legacy; and the other officers and members of Mountain Legacy;
Professor Roger G. Barry and Professor Bruno Messerli;
Mr. Zeke O'Connor, Founder and Executive Director of the Sir Edmund Hillary Foundation of Canada, and Ms Karen O'Connor, President of the SEHF;
Ms Sue Badyari, CEO, and Ms Nathalie Gauthier, North American manager for World Expeditions.
Finally, I must recognize the humble people of the world's mountains, and especially those of Nepal. They welcomed me into their homes, shared their food, joys and sorrows, and taught me so much. To this extent the slogan that Pauline and I developed in 1980 for our new journal, Mountain Research and Development is worthy of record:
To strive for a better balance between mountain environment, development of resources, and the well-being of mountain peoples
I am also grateful to His Excellency, Simon Tucker, Policy Advisor Iain Wood, and all the staff of the New Zealand High Commission, as well as to His Excellency, Kali Prasad Pokhrel, Ambassador of Nepal, without whose commitment we would not be here today.
Many thanks to all of you.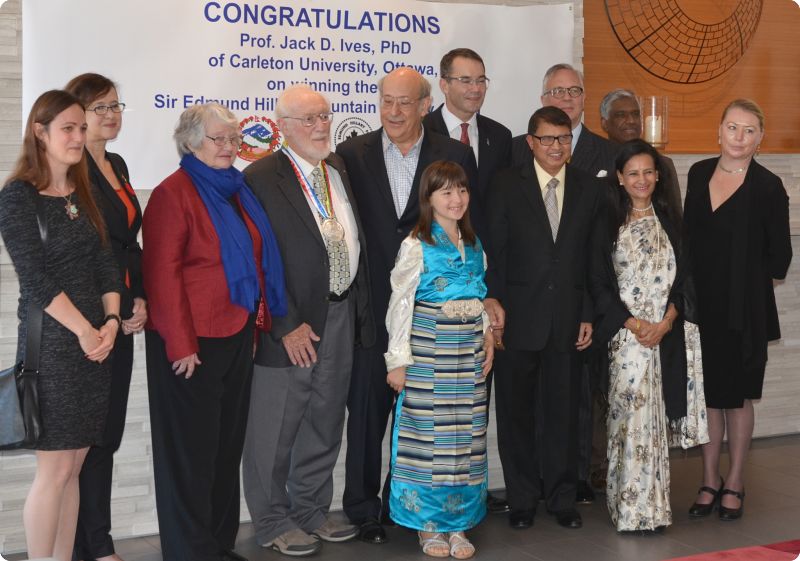 From left to right: Nathalie Gautier (World Expeditions manager for North America), Susan Gregson (Assistant Deputy Minister for Asia Pacific, Department of Foreign Affairs, Trade and Development, Canada), Pauline Ives, Jack Ives, Seth Sicroff (Projects Coordinator for Mountain Legacy), Liana Sicroff, His Excellency Simon David Lambert Tucker (High Commissioner of New Zealand), His Excellency Kali Prasad Pokhrel (ambassador of Nepal), His Excellency Sturla Sigurjónsson (Icelandic ambassador), Dr. Nimal Rajapakse (Vice-President, Research and International, Carleton University), Kamala Pokhrel, Penny Tucker