| | | |
| --- | --- | --- |
| | The Sir Edmund Hillary Mountain Legacy Medal | |
Presentation of 2011 Hillary Medal
All Medalists

2003 Medalists

2006 Medalist

2008 Medalist

2010 Medalist

2011 Medalist

2013 Medalist

On May 29, 2011, the climactic third day of celebration of the Khumjung School golden jubilee, the fifth Sir Edmund Hillary Mountain Legacy Medal was presented to Ang Rita Sherpa.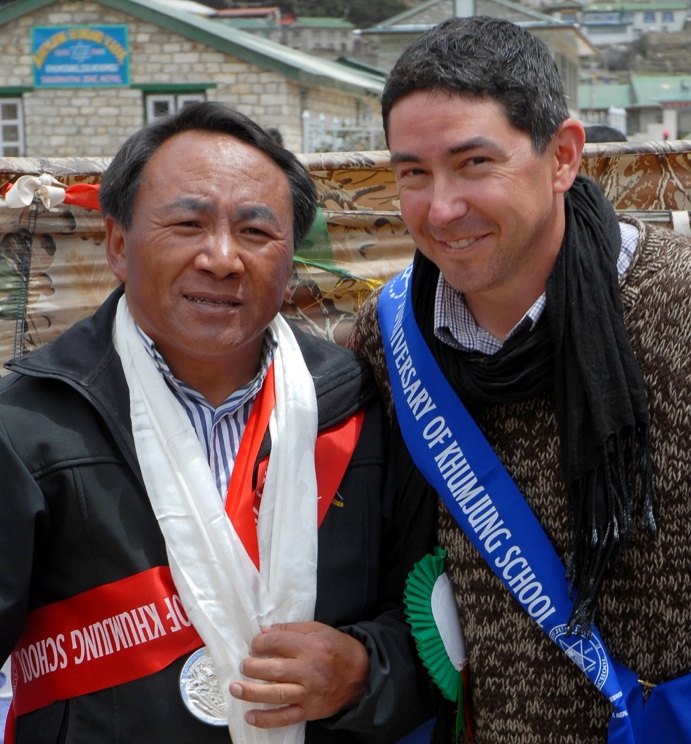 Ang Rita Sherpa (left) and Dr. Beau Beza, chair of the Hillary Medal Selection Committee (right)

The Hillary Medal was presented by Dr. Beau Beza, a professor at RMIT University in Melbourne, Australia, and by Peter Hillary, son of Sir Edmund, and a noted adventurer in his own right. Here is what Peter Hillary said on this occasion:
I'm delighted to be here to introduce Ang Rita Sherpa. But before I do I just want to tell you that we have trekked with the Australian Himalayan Foundation from Paphlu [in Solu district, just south of the Khumbu] to Khumjung. And when I was in Paphlu I asked Dr. Mingma Gyalzen [director of the Hillary hospital in Phaplu] what is the most important thing remaining to be done in Solu Khumbu. And yesterday here in Khumjung we had another meeting in which we asked the doctors what is the most important thing remaining to be done in Solu-Khumbu. Now you might think that all these doctors would say that health care is the most important thing to be done. But no... they said education is number one. But education doesn't work without great teachers. Great teachers open up a world of possibility. And we're here today to celebrate someone who is a graduate of Khumjung School, and some great teachers, an old Hillary family friend, Ang Rita Sherpa. Ang Rita has dedicated himself to the management of remote mountain protected areas. We think that it's a marvelous thing that the Hillary Medal that was approved by my father about ten years ago goes to Ang Rita on the golden jubilee of Khumjung School. I'm sure that Dad would be thrilled that one of his scholarship boys from Khumjung School is receiving this award after an incredible career in national park management.

Very briefly, Ang Rita works for The Mountain Institute in Kathmandu. He was involved in the establishment of the Makalu-Barun National Park, the Khumbu Alpine Conservation Council, and much of this work has been adopted as a model for other parts of the world, including the Andes in South America, and more recently the Sacred Sites project here in Khumbu. Well, it gives me very great pleasure to invite Ang Rita Sherpa to the stage to receive the Sir Edmund Hillary Mountain Legacy Medal.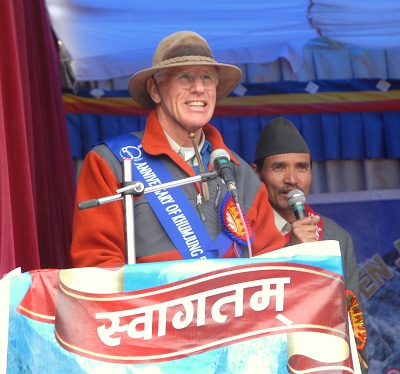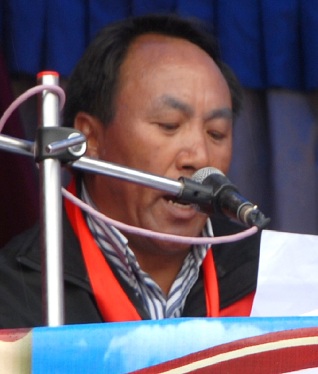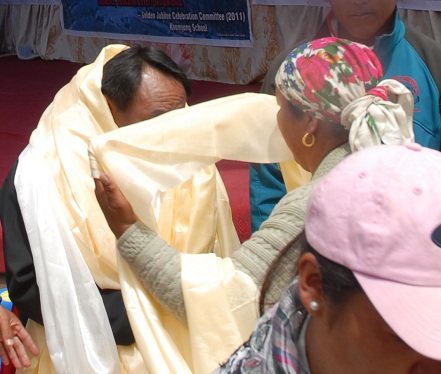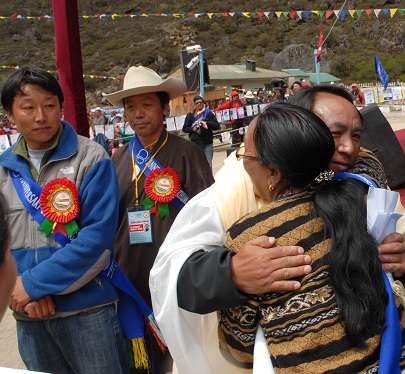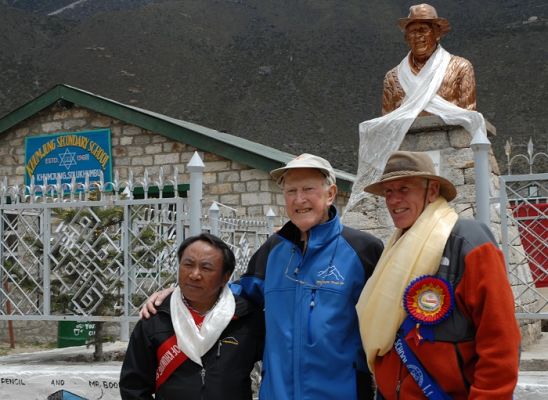 Above: Ang Rita (left) and Peter Hillary (right) with
George Band, OBE, youngest climber on the 1953 British expedition to Mount Everest.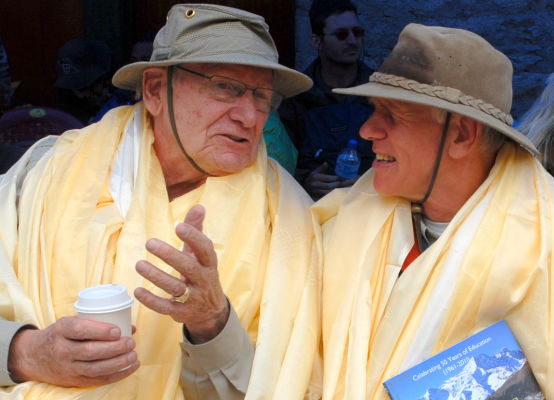 Peter Hillary chats with Zeke O'Connor, founder and director of the Sir Edmund Hillary Foundation of Canada,
which has long been a key collaborator on Himalayan Trust projects in Solu-Khumbu, most notably the Khunde\ Hospital.